CHRISTMAS CAR GIVEAWAY
Christmas Comes Early for Pine Belt Mother of Three
The new year promises to be a little brighter for a Pine Belt family who's had more than their fair share of tough breaks since late 2017. A typical week of work, activities and preparing for the holiday season for the Hales family was changed in the blink of an eye by a tragic accident.
Kristy Hales, a single mother of three from Hattiesburg, got the call that every parent fears most. Her two youngest children were traveling with their grandmother when another driver crashed into their car, changing their lives forever. Both children suffered broken bones, concussions, bruised lungs and lacerations, while their grandmother was pronounced dead at the scene of the accident.
Months later after surgeries, hospitalizations, physical therapy, counseling, follow-up appointments, not to mention time away from work and school, the Hales family is trying to put their lives back together with the help of Kristy's employer and Pine Belt Chevrolet.
"Winning this vehicle means so much to me. It's been rough and it's still a journey, but it's getting much better, day by day. It's going to be a wonderful Christmas for my family. Thank you so much," Hales gushed as she dabbed her eyes with a tissue.
Ann McCullen, Executive Director of Edwards Street Fellowship Center where Kristy works, nominated the Hales family for Pine Belt Chevrolet's Secret Santa Giveaway saying that Kristy is a "prime example of a hard-working, non-complaining, loyal, dedicated single mother who is desperately doing everything she can to provide for her children."
"Kristy has the best attitude," McCullen said. "People who come into the food pantry are hurting and are in need and they talk to Kristy. She's keeping them up and holding their hand and saying she'll pray for them, but nobody knows everything she's going through."
Jared Waldrop, General Manager of Pine Belt Chevrolet Buick, said the Secret Santa Giveaway is one way the dealership is giving back to the community in a meaningful way by helping a deserving family in need this holiday season. Pine Belt Chevy also partnered with Lamar County Sheriff's Department to host a toy drive this year.
"We had many deserving families whose names and stories were submitted to our first holiday automobile giveaway, but we found the perfect person, thanks to Ann and our anonymous selection panel," Waldrop said. "We knew we wanted to give the vehicle to someone in our community who was serving and volunteering and doing their best to help others, but maybe they needed a little help also," he added.
When McCullen and Hales walked into Pine Belt Chevrolet Buick, Hales had no idea she was the winner of the 2007 Chevrolet Suburban. With most of the employees of the dealership looking on, Waldrop presented the keys to the SUV to a surprised and tearful Hales.
"We are honored to present this preowned vehicle to Kristy and her family. Our thoughts and prayers go with them in the days ahead and we are glad to be able to provide the Suburban to Kristy this Christmas," Waldrop added.
This is Pine Belt Chevrolet Buick's first Secret Santa, but plans are already underway to host a second vehicle giveaway next year.
"This was our first year to give a vehicle to a family in need and we know there are others out there who are hurting, so we hope this event grows next year," Waldrop said.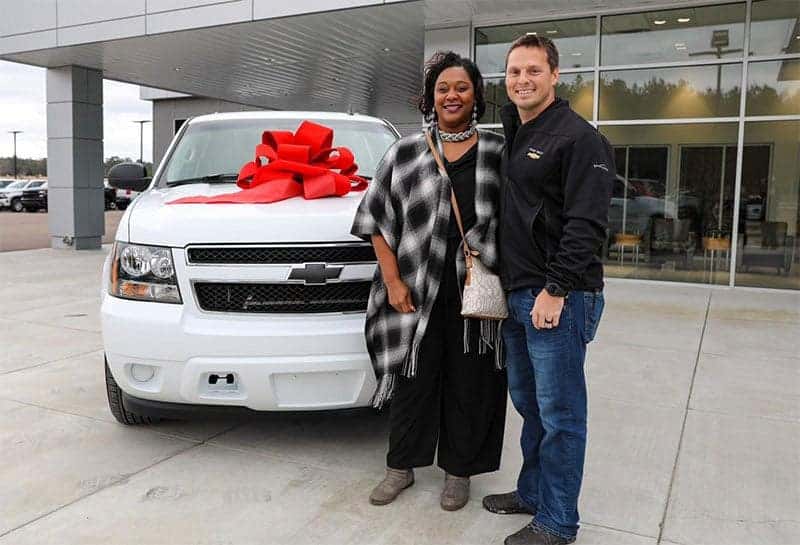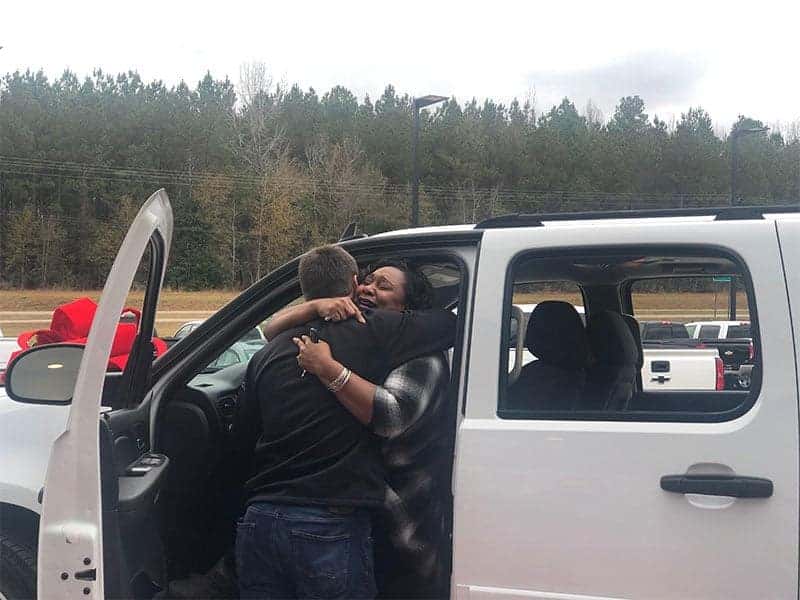 Pine Belt Chevrolet Buick's second Christmas Car Giveaway, took place on December 21st at the dealership.
Our winner Toni Robinson is an investigator with the Purvis Police Department who specializes in juvenile and sex crimes. She was nominated by colleague Austin Barnett, a police officer who worked alongside Toni for 18 months. Barnett describes Toni as an advocate for the voiceless and a philanthropist for the Pine Belt community. She has organized toy drives for the last three years to support children in need in the city of Purvis. Toni is the kind of person who selflessly gives her all to help others without ever asking for help for herself.
Barnett made arrangements with Toni's boss to get her to Pine Belt Chevrolet Buick. Unaware of the contest, she walked unknowingly into the dealership and was greeted by Jared Waldrop, the general manager of Pine Belt Chevrolet Buick, and the Pine Belt Chevrolet Buick Family. Waldrop smiled as he presented Toni with keys to a preowned Chevrolet Tahoe.
Jared Waldrop, the General Manager of Pine Belt Chevrolet Buick, said the Secret Santa Car Giveaway, is the perfect opportunity to give back to the community. We love helping a deserving family, that is also giving back to the community in a significant way.
"We received so many worthy applicants this year, but Toni was the perfect choice. Toni is someone who is giving back to the community and giving their all to help others, but would never ask for help for themselves," said Waldrop.
"We are grateful for this opportunity to give back to a praiseworthy individual; such as Toni and hope to grow our Secret Santa Car Giveaway more and more each year," added Waldrop.